Exterior Painting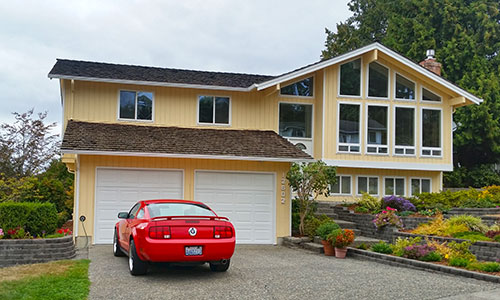 Painting is one of the most important steps in maintaining the walls and siding of an exterior as it is the first line of defense against all of the elements of nature. Proper maintenance can prolong the life of the paint, but eventually it will need to be repainted. Proper preparation, quality paint, and our professional workmanship provide a solid and long-lasting paint job that will help protect your valued investment.
To ensure a quality paint job, we always start by applying a mildew treatment followed with pressure washing the siding to eliminate dirt, grime, mold, and mildew. After this, we scrape any remaining loose paint and prime any bare spots with the proper primer. The same applies for masonry. After applying a good, flexible caulking, it's time to paint. We always apply two coats of paint, which helps with durability, prevention of fading, and a uniform finish. When applying the first coat, we typically spray the paint on and immediately "back roll" which pushes the paint into any cracks, knots in the wood, or pores on the surface. This also insures even coverage. We finish with a "fog coat" to provide an even finish and ensure proper coverage and uniform sheen.
We then paint the trim and front door if needed. We will start inspecting our work before we finish to ensure quality and at the end, each employee will take the time to inspect the job. The more we inspect with different eyes, the tighter the end result will be. Finally, we will ask you to walk the job with us or by yourself to point out anything you might see or to answer any questions. We will only call a job complete when you are happy.
Other exterior services we provide include pressure washing of driveways, patios, decks, paths, etc. This is especially important in the winter months, as the rain will create a slick film on any exterior surface with mold, mildew, moss, etc.
We also refinish decks and fences. A brand new deck will need time to cure (usually 6 months) before applying stain. A deck with an existing stain will need a little more prep work. Usually, if there is a stain that is old or failing, we will need to strip it off followed with up with a wood brightener. After the deck has properly dried out, we will sand all the wood by hand, and apply a quality stain. We prefer to use either Cabot, TWP, or Sikkens products. Feel free to ask us about each product and which ones we like.